Bark Avenue Dog
Rochester New York's Premier Dog Grooming Salon
Conveniently Located on the corner of Park Avenue & Rowley Street
Welcome to Corner 171
Rochester's premier grooming community!
Big changes are happening here at Bark Avenue Dog! Effective 1/1/2023 we will be adjusting our operations so that each of our groomers will be operating as her own business entity! Have a favorite groomer? You can check out her business listing below. All scheduling must be done through the individual groomer. Appointments already booked will be honored! See you soon!
A relaxing bath with a special de-shed shampoo followed by a conditioning treatment. A Blow out to release the under coat and then a thorough brush out with the Furminator tool to finish the process.
* REDUCES SHEDDING UP TO 90% WITH REGULAR TREATMENTS!
Nail Grinding is a great way to get those nails into shape. We use a file on a Dremel to smooth out those sharp edges and we can typically get the nails much shorter than a regular clip.
Teeth brushing isn't just good for humans, dogs benefit from a good brushing as well. Regular oral care for your pooch is just as important to its long term well being as it is to yours!
We use South Bark's Blueberry Facial. It is PH balanced and made in the USA. It's a tear-less, lick-safe shampoo, face wash and color brightener all-in-one that uses Blueberries, Avocado, Coconut oil, and Aloe. Blueberry Facial is rich in Vitamins A, D & E and is gentle on the eyes. It will leave your pup's face smelling delicious!
Soothing paw treatment to heal and prevent cracked paws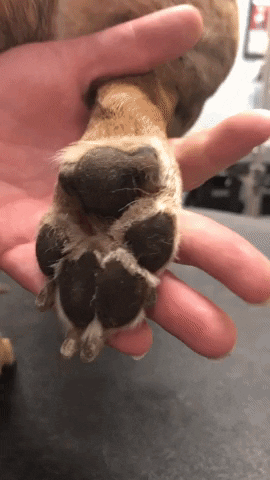 Ask us about your coloring options, as they will be different for every dog. We offer everything from permanent to temporary. Set up a consultation today!
IMG_6742_edited_edited
Describe your image